In October, German Culture Centre (GCC) held a series of events on the theme of Humboldt's Quest. The event was divided into three parts: the Latin American Style Concert on October 18, the lecture If young Humboldt lived today - I practiced medicine in Germany on October 22, and the opening ceremony of Exhibition of medicinal plants in Chinese painting on the same day.
In the afternoon of October 18, the first stop of the theme day, the Latin American Style Concert, was held in the garden in front of GCC. The three musicians invited to the concert were Luis, a keyboardist from Ecuador, Rafael, a guitarist from Peru, and Ivet, a vocalist from Cuba.
In late autumn, the Latin American style of music is so enthusiastic that you can't help but sway your body to the music. Why is GCC hosting Latin American style music? People who know German history will know the central figure of this event: Humboldt. At the turn of the century in his time, he traveled to South America at his own expense for five years. As a result, there are plenty of plants and animals named after Humboldt in South America today. Mr. Ma Shengnan introduced the cultural characteristics of the corresponding country for each piece and led the students to follow the footsteps of Humboldt's exploration of South America in those days, and to enjoy the scenery he had seen.
The keyboardist's steady stage presence, the guitarist's great skill, and the vocalist's improvised accompaniment all added color to the concert. The band also performed a South American style song Despacito and a sentimental song The Moon Represents My Heart to interact with the audience.
In the late afternoon of October 22, the second stop of the theme day, the lecture If young Humboldt lived today - I practiced medicine in Germany was held in the lecture hall on the second floor of GCC. In this lecture, Dr. Wang Zhiwei, the founder of the Wang's Medical Arts Center of the Wang's Chinese and Western Medical Center in Shanghai was invited. During the lecture, Dr. Wang talked about his interesting experiences in practicing medicine, especially when treating strict German patients with Chinese medicine. At the end of the lecture, several students who were listening to carefully raised their confusion about medicine to Dr. Wang, and Dr. Wang patiently answered them one by one.
After the lecture, the third stop of the theme day, the exhibition of Chinese paintings of medicinal plants, was opened at the same time. The works selected for this exhibition were 24 exquisite Chinese paintings made by Shanghai-style calligrapher and painter Mr. Jin Guoxiang, with the concept of medicinal plants illustration, using fine brushwork and freehand Chinese traditional flower-and-bird painting style, accompanied by seal, official, and xing fonts. These works show the traditional herbal flowers blooming in China in the order of the twenty-four traditional Chinese seasons.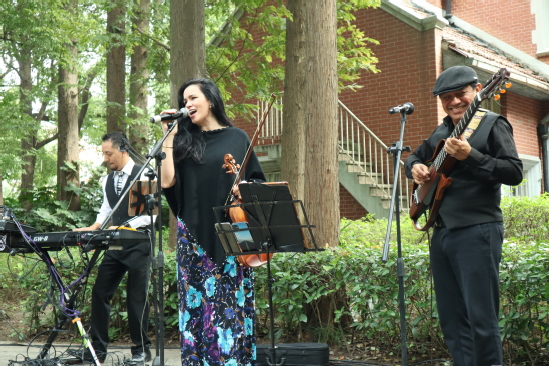 Latin American style concert scene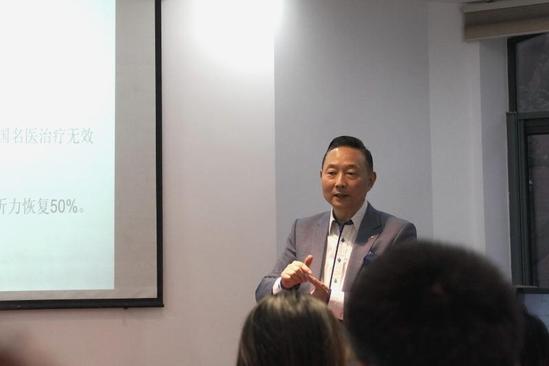 Special lecture scene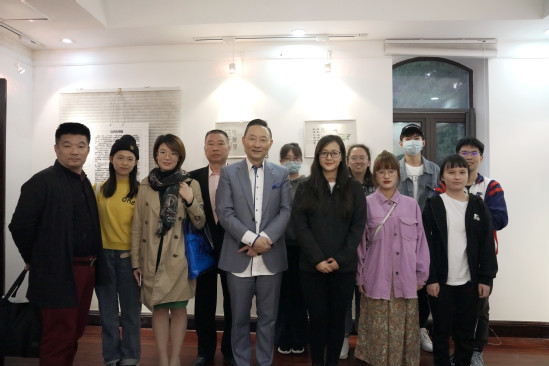 Group photo