On the afternoon of November 17, 2020, the third lecture of the series " Foreign Language Reading" was held in the hall on the second floor of German Culture Centre (GCC). Dr. Hu Chunchun was the guest speaker, who did his bachelor and master at Peking University and his PhD at Berlin's Free University. From 2007 to 2013, Dr. Hu was the Chinese Dean of the Confucius Institute in Hannover and from 2013 to 2020 the deputy director of the German Research Center as well as of the Sino-German Research Center for Cultural Exchange at Tongji University. Now Dr.Hu is working at the Shanghai Academy of Global Governance and Area Studies (SAGGAS).
Before the lecture, Ms. Shi from the German Culture Center briefly introduced the background of the " Foreign Language Reading Festival" to the students and reviewed the first two lectures. Then she expressed a warm welcome to Dr. Hu on behalf of all the teachers and students.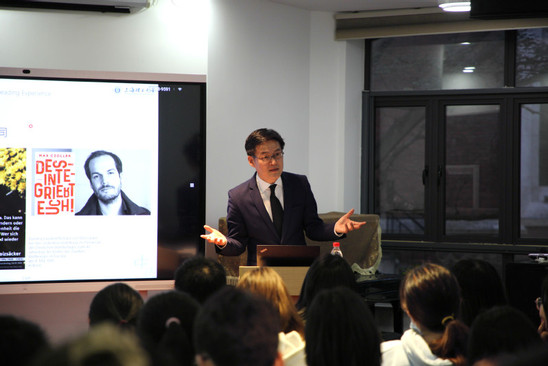 At first Dr. Hu mentioned the US presidential election and pointed out the sense of tearing in the US society before and after the election, which worked as a lead-in to the theme "Identity". He also cited the case of Brexit to strengthen the students' understanding of "Identity". Then an extraordinary movement in Germany – Protest of 1968, was elaborated. Dr. Hu listed three special groups in Germany, namely immigrants, Jews and "East Germans", in order to further explain what "Identity" means and embodies in Germany. He analyzed the German history in the past 100 years and the current situation of Germany, inspiring more students to explore German culture by reading German history and literature.
The third section of the Lecture Series-"Who is the German? A contemporary reading experience!"
"The Foreign Languages Reading Festival 2020" held by Hujiang International Cultural Park came to an end. Many students regarded the series as quite beneficial. They enjoyed picking up a paper book and sitting in the beautiful Hujiang International Cultural Park. Reading is brilliant.