End of 2019, the sudden outbreak of COVID-19 affected millions of people in China. Encouraged by the support of the world, China has successfully contained and mitigated the pandemic.
After the outbreak of COVID-19, Yoshihiko Fukuhara, president of Chuo University, expressed condolence to USST immediately. In August 2019, USST set up its first overseas office – USST Tokyo office. And He Weiming, director of USST Tokyo Office, began to collect protective materials such as masks and thermometers for USST at the first time. He also donated 3000 masks and disinfectant in his own name for the protection of USST faculty and students.
At present, Japan has entered a critical period of preventing and controlling of COVID-19, and also is confronting with shortage of face masks and other epidemic prevention supplies. He Weiming, along with Chinese students in Chuo University and alliance of Chinese and Japanese professionals, launched the public welfare activity aiming to donate 100,000 face masks to support Japan to resist the pandemic. 10,000 masks were donated to Chuo University from USST Tokyo office. He Weiming shared, "Being able to help others is the happiest moment in life. Our initial intention is very simple, we just want to say thank you to the Japanese people. Thank you for giving us masks when we were in need. We show appreciation through the campaign to raise 100,000 masks. The bond between China and Japan can be confirmed by sending masks to each other and standing together regardless of situation."
As is shown in the theme of this public welfare activity: Although hills and rills set us apart, the moon and wind share our kind heart. And one good turn deserves another, China and Japan are friendly neighbors separated by a strip of water. In the face of the epidemic, China and Japan are a community of shared future. We wish the epidemic would finish soon, our lands are safe and sound, and spring flowers blossom in bloomy season.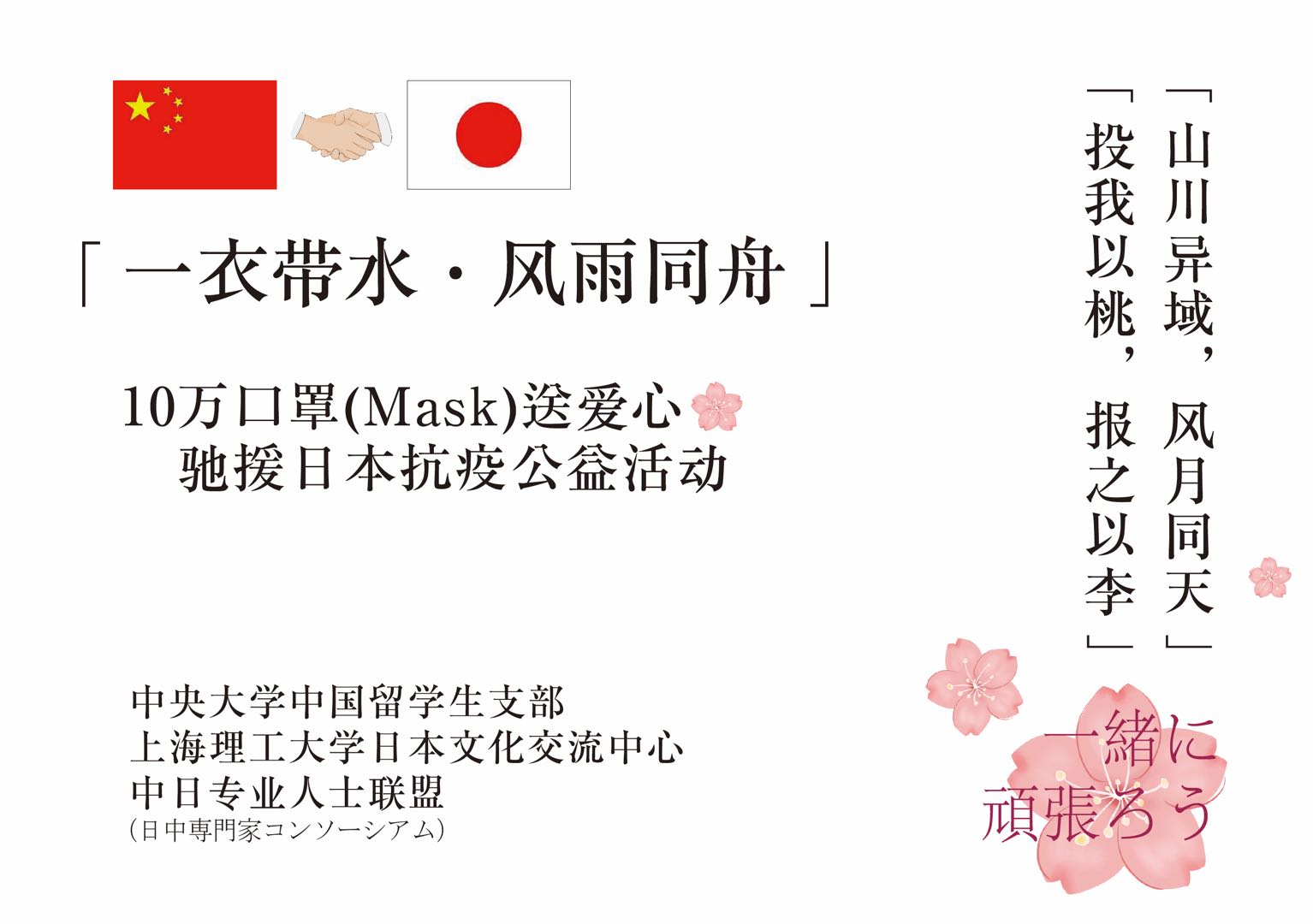 The proposal of supporting each other
Donate epidemic prevention supplies
A group photo of Mr.He, consular staff and Japan Airlines' staff after donating masks