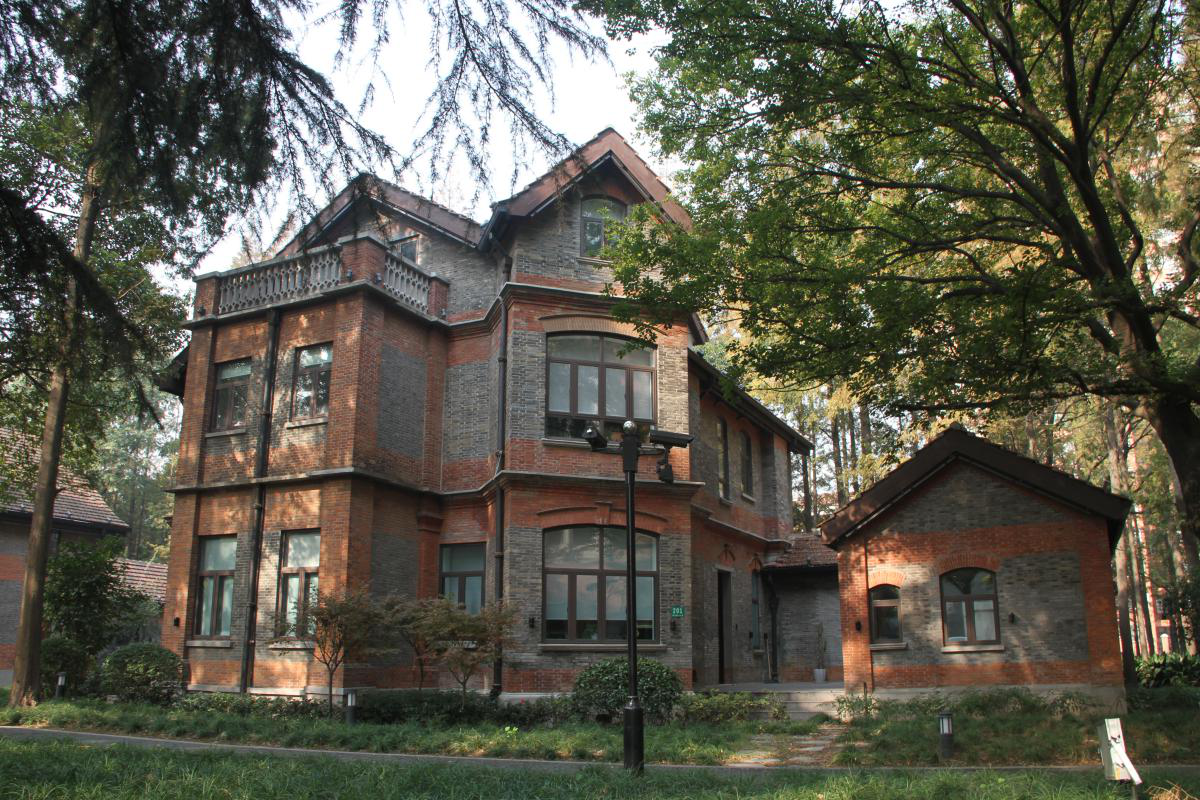 Brief introduction:
German cultural exchange centre (below refered to as German Centre), located in building 201/202 of Hujiang International Culture Park and unveiled in was established in December 2009 and started operating in October 2011. The German Centre is part of Hujiang Culture Park located on the campus of USST along Jungong Road in Shanghai′s Yangpu district. Due to a couple of successful events which have been initiated since Spring 2012, the German Centre at USST has got some very positive response from the Chinese public in Shanghai which is interested in German culture.
German cultural and historical characteristics are incorporated into the overall design of our centre which features a harmonious combination of refinement in architectural characteristics and practical use.
Section and function:

1st floor reception/info centre: for learners to better understand politics, economy, history, geography, culture of Germany through related documents and videos, German newspaper and magazines. There is also a proper venue for hosting various learning/discussion groups.
2nd floor auditorium/multi-function meeting room: for various report/lecture/reading sessions, seminars with capacity to accommodate 50-60 people. Venue could be arranged to be classroom or roundtables based on different needs.
2nd floor display room: for various picture/photography exhibitions, and activities to display German corporate culture.
2nd floor meeting room/training centre: for small seminars, symposiums and China-Germany inter-culture lecture and training, with capacity to accommodate around 10 people.
3rd floor administration area: office for centre operation team, with public area to receive guests and visitors.
Corridor/bond: applauded as the 'bond' of German culture, with pictures of German cities, geography and culture displayed on the two side walls, which could be used together with 2nd floor display room for thematic shows.
Tool room/handcraft centre: to host various handcraft shows and interactive sessions, to improve learners' skills, innovative capability and to create fun from practice.
Activities:
Since official opening in February 2012, German Centre has hosted various cultural activities successfully. Apart from offering German culture-focused elective course, picture/phtography shows, the centre has held many lectures, reports, symposiums, reading sessions, invited famous scholars, experts and authors to give thematic lectures to facilitate two-way communications. Each activity features high level China-Germany communication and dialogue. Activities held focus on not only promoting German culture to our own campus, but also introducing China to Germany and students from overseas. Furthermore, the centre, on the strength of his consulting committee, has been pursuing closer cooperation with various organizations and has initiated a series of events around the 'Hujiang Diplomats Forum'.