A Sino-German cross-cultural cheongsam show held by German Culture Center was lavishly put on stage in the auditorium on April 15th afternoon.
As we all know, Cheongsam typically represents Chinese costume culture. Cooperated with Shanghai German schools and Shanghai German club, German culture center had creatively invited students both from these institutions and USST German major to perform a Cheongsam show, receiving professional model training together in the German school.
Before the Cheongsam show, USST president Prof. Hu Shougen exchanged ideas with Doc. Kettelhut, the honorary director of German culture center. Vice President Prof. Chen bin, Director of International Affairs Office Prof. Wu Fengyu, and Foreign Director of German culture center Prof. Si Matao and Chinese director Prof. Gu Shiyuan attended the meeting as well. President Hu said the various activities held by German culture center were widely welcomed among teachers and students. In the aspect of higher education, USST has close cooperation with German universities. He regarded international education as an important direction of development, and said that Germany engineering education is admitted by all over the world while cooperation between USST and Germany had good historical origin. As the honorary director of German culture center, Doc. Kettelhut expressed her thanks to President Hu and expressed that it is due to support given by the leaders in USST that German culture center is able to successfully hold so many cultural activities. In addition, she appreciates President Hu's approval of German higher education and hopes to further promote diversified communication of both sides.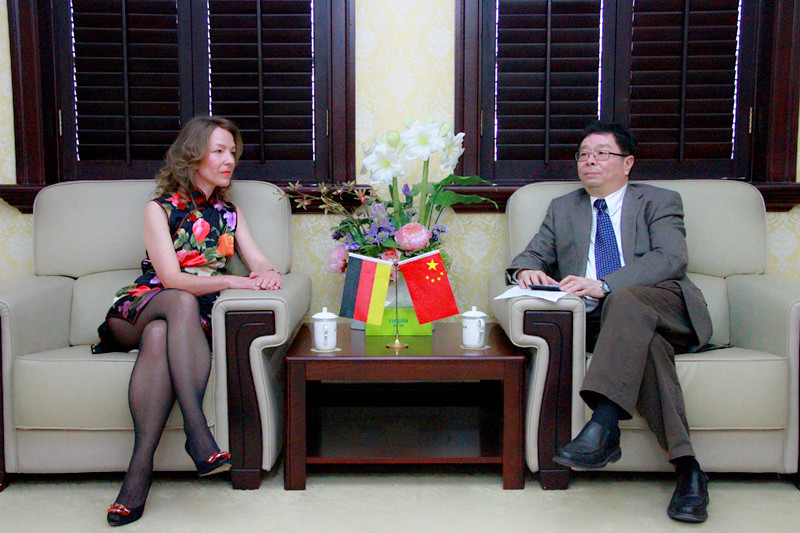 Doc. Kettelhut delivered a wonderful starting report about how foreigners view Cheongsam. Then, Liu Yu, chief editor of this performance from Donghua University, summarized the specialties of this cross-cultural Cheongsam show. In the end, twenty students from both China and Germany wearing glorious Cheongsam gave a marvelous Cheongsam show for all of the audiences, prompting storms of applause repeatedly.